SQL Buddy – Web based MySQL administration
This software is no longer maintained. Caveat emptor.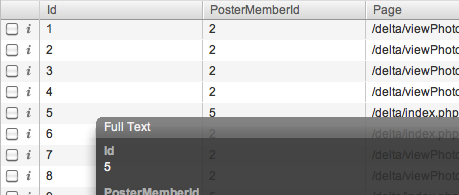 No setup
Just unzip the files to your server and it's ready to use. Seriously, the next step is logging in.
Complete control of users
Logins are handled directly by MySQL. Create as many or as few users as you want.
Speaks your language
The current release is bundled with 47 translations!
Reviews
"SQL Buddy is absolutely awesome: it's super-easy to set up, has a beautiful interface, and is fun to work with!"
@speedbreeze
"Using phpMyAdmin? Have a look at SQL Buddy, trivial installation, simple yet powerful interface. In a word - brilliant."
@GatwickSolo
"I don't think I'm going to ever use PMA again purely because well... SQL Buddy kicks its arse to Kathmandu"
Paul Chater
"Having some nice, quality time with SQL Buddy. After tonight, I will NEVER use phpMyAdmin again!"
@comspy
"SQL Buddy is an open source, lightweight and intuitive database management tool. Ridiculously easy to install, simply unzip the folder to your server and you're all set."
thedailyapp.com
"nice, simple piece of software that allows you to easily edit your databases from the web ... Highly recommended."
scottnelle.com
"I just absolutely love SQL Buddy. So much nicer than PHPMyAdmin."
@ChrisVanPatten
Download SQL Buddy
Download information
SQL Buddy 1.3.3
Size: 389 KB
Released: January 18, 2011
Server requirements
PHP 4.3+
MySQL 4+
Supported browsers
Chrome
Firefox
Safari
Opera
Internet Explorer 7+